Breakfast is my favorite meal of the day; and while eggs and egg whites are considered one of the most perfect bodybuilding foods, they get old for me.  Let me introduce you to some of my favorite foods, recipes and websites!
Websites: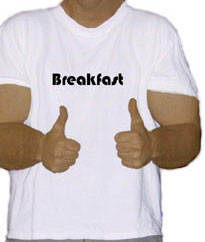 www.mrbreakfast.com
Mr. Breakfast is THE place to go for figuring out what to eat when you have no idea what to cook.  There is a HUGE database of ideas, recipes and even reviews of breakfasts restaurants!
Some of my favorite ideas to look up:
Omlettes, scrambles, French Toast and pancakes.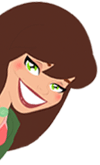 Hungry Girl
If you don't get this woman's newsletter, you should!  She is on board the Weight Watcher's Train, and while I don't care about WW, I love getting healthified recipes in my inbox all the time.  The woman has even come up with an idea of how to make chocolate fudge from pumpkin!  I don't agree with all of her swaps (she uses lots of un-natural things, like fat free items, etc. flavored with artificial flavors and colors) however, for the ocassional craving that arises but you can't bring yourself to succumb, she offers some great swaps!
Here's one for a Blizzard that looks yummy, great idea for PWO meal!
http://www.hungry-girl.com/chew/chewdetails.php?isid=1439
New Favorite Foods:
Like I said, I'm getting tired of having oatmeal and eggs every morning, even though I LOVE both of them, especially oatmeal.  I've been eating  a lot of breakfast sandwiches lately, fritattas and scrambles.  Let me introduce you to some of the ingredients I'm really digging, that help me get my protein in at breakfast without resorting to a dozen egg whites or protein powder.
Applegate Farms Natural Turkey Bacon


THIS is some fabulous stuff!  I used to go for the Jennie-O turkey bacon, until I found this wonderful stuff.  It has a deep, smokey flavor, and ZERO nitrates or fillers.  If you can pronounce all the ingredients, you know you have good stuff.  They've also got an organic version and lots of other products including deli meats, sausages and hotdogs.
Visit their website for ideas and recipes: www.applegatefarms.com
Chicken Sausage
This stuff comes in all flavors, brands and varieties.  I like this Al Fresco brand, but since it's usually pretty expensive, I hit up Trader Joe's for their store brand any time I can.  Right now I have their Sweet Apple Chicken Sausage and bell pepper sausage.  The mango sausage isn't bad either.  Al Fresco actually has a blueberry sausage, and man, does that sound good with some french toast!


Something to watch out for though is fat and carb content.  When picking your proteins, try to keep them just protein with low amounts of the former.  While it's ok to have higher fat content in your meats, it basically means you get less fat at other meals.  Not as much fun, because the fat adds up fast!
http://www.alfrescoallnatural.com/FlavorsIntroNew.aspx?FM=1 – check this out for their flavors and tons of recipes
Trader Joe's Sprouted 7-Grain Bread and Great Harvest Cinnamon Raisin Bread

Alas, I have no pictures of these wonderful breads, but let me tell you, they both make WONDERFUL French Toast, for which the recipes are at the bottom of the page.
The TJ bread is amazing, with only 60 calories, 5g  protein and 7 grams of carbs per slice!  AMAZING!  And when you sprout the grains in the bread, this actually increases the nutritional value of the bread.
The Cinnamon Raisin Bread, well, maybe not so healthy, and I don't have pictures of it either.  But, why do I like it? Besides the fact that this delicious bread seriously tastes like a donut in sliced form, they stick to a belief of having only 5 ingredients in their bread – all of which you can pronounce.  From their website: (www.greatharvest.com)
Five pure and simple ingredients are the hallmark of our legendary whole grain breads:

Fresh-ground whole-wheat flour
Filtered water
Fresh yeast
A pinch of salt
Something sweet (usually a local honey).
We believe bread is best when you keep it simple. It's even better when you use the highest quality ingredients you can find. You can taste it and your body benefits from it.
Just like fresh-ground coffee beans make a better cup of coffee, fresh-ground grains of wheat make a better tasting – and better for you – loaf of bread.
As far as preservatives go, forget about it! Great Harvest breads have never been made with preservatives or artificial additives of any kind…and they never will. Thanks to our special scratch-made process, our breads still stay fresh for up to ten days (if you can keep your hands off it that long!)
What's not to love?
Recipes:
I have lots, but these are my favorites that I have been doing for awhile now:
French Toast – and variations:
2 slices TJ Bread (or 1-1 1/2 cinnamon raisin bread)
3-6 egg whites
vanilla, water, stevia
Mix eggs and liquids together, dip bread in mixture and fry in pan.
Variations:
STUFFED FRENCH TOAST
Slater on 1 Tablespoon of Philadelphia fat free cream cheese, peanut or almond butter (or flavored peanut butter, check out www.ilovepeanutbutter.com 
) and/or fruit, make into a sandwich, dip sandwich into mixture and fry.
High Protein French Toast:
If you want the extra protein but not so many eggs, add in some protein powder in leiu of 3 egg whites.  My favorites are Oryx Goat Whey
and BSN Lean Dessert Cinnamon Roll

Fritattas
There are so many versions of this.  So pick your ingredients and here is the method for making them.
Sautee veggies (with or without oil).
Add eggs/whites.
As the eggs begin to set, lift up edges and let the runny parts run underneath.
Top with meat and/or cheese.
When it is almost set, throw the pan under the broiler for a few minutes.  Take out when it's golden brown and bubbly on top!
Ingredients I like to use:
Extra virgin coconut oil
turkey bacon, nitrate-free deli meat
Goat cheese, goat gouda
all kinds of veggies: peppers, onions, spinach, broccoli
Extras: beans, yum! or russet potatoes
Breakfast Sandwich:
Bread of choice (current choice is Pepperidge Farms WW English Muffins)
Meat (I love smoked salmon or turkey bacon or deli meat, or even chicken sausage)
eggs/whites
Salsa (optional)
Easy to figure this out: cook all, make a sandwich
Oatmeal Protein Cookies
3 egg whites
30-40g old fashioned oatme
Related articles